In this episode of Content Head, host Joe Michalowski dives into the world of SEO, debunking the common belief that it takes at least six months to see returns. While SEO experts often promise quicker results, the key lies in understanding the maturity of your website. Joe argues that, in the initial stages, it's reasonable to expect several months before witnessing significant SEO returns.
Reflecting on his own experience at Mosaic Marketing, Joe recalls the early days of content distribution resembling a door-to-door campaign, lacking a robust marketing infrastructure. They relied on qualitative feedback from prospects, emphasizing thought leadership over keywords. As the company grew, the decision to invest heavily in SEO emerged, aligning with investors' expectations.
Joe shares insights from his collaboration with Organic Growth Marketing (OGM), emphasizing the value of optimizing existing content rather than starting from scratch. This approach led to early spikes in SEO results, demonstrating that, with the right strategy and mindset, SEO can deliver faster returns than the conventional wisdom suggests.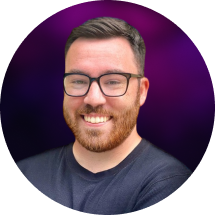 Name: Joe Michalowski
What he does: Director of Content
Company: Mosaic
SEO Success: It's All About Website Maturity"
Joe stresses the importance of considering your website's maturity when gauging SEO success. While there's often pressure to see quick returns, especially from SEO experts, Joe argues that, in the initial stages, it's realistic to expect several months before substantial results manifest. This insight underscores the significance of understanding where your website stands in its growth journey and tailoring SEO efforts accordingly.
Quick SEO Gains: Optimize Existing Content Strategically"
Joe highlights the effectiveness of optimizing existing content rather than starting SEO efforts from scratch. Reflecting on Mosaic Marketing's journey, he explains how they worked with Organic Growth Marketing to breathe new life into their content library. By reevaluating URLs, identifying keywords, and enhancing content quality, they achieved early spikes in SEO results. 
Unlocking SEO Success with Product-Led Strategies
Joe introduces a potent strategy for SEO success: product-led content. Rather than solely focusing on high-volume, competitive keywords, he recommends mapping out use cases and targeting low-volume, low-competition keywords related to those use cases. By providing in-depth, valuable how-to guides and aligning them with their product capabilities, Mosaic Marketing generated demand and credibility. Joe emphasizes that this approach suits sales-led organizations, as it drives quality leads and aligns with their go-to-market model.